It is not time or opportunity that is to determine intimacy; --
it is disposition alone. Seven years would be insufficient to make some people acquainted with each other, and seven days are more than enough for others.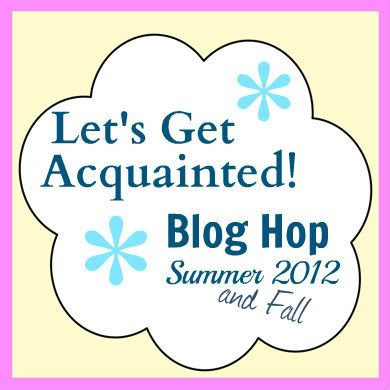 If you are arriving today for the Let's Get Acquainted Blog Hop just let me say:
A big thank you to Beth over at Plum and June for hosting this hop. It started back in May and will run through November. I've been able to meet a lot of fellow quilters and new bloggers through it. The tutorials that the bloggers on it have done have been very informative and I've learned a lot about blogging through them.
The other blogger being introduced today is Catherine from My Life in Binding. Be sure to check out her post too! Tuesday was the day for Martha at Weekend Doings and Melissa at Sew Bittersweet Designs take a look at their blogs too.
My Favorite Quilt
Oak at Sunrise
First I guess I should tell you a little bit about myself. Today is a special day for me because it is my 58th birthday. That sounds way to close to 60 to me but I guess I should remind myself
that "any day above ground is a good day" and "age is a state of mind". Getting involved in blogland this year is making me feel a little younger and everyone knows
"you're only as old as you feel."
Can you tell I like quotes yet? If you prowl around my blog a bit you'll see that I like to start my posts with one (usually not so corny). I have fun finding the ones that seem to match what I have to say for the day.
I also love to read. I am usually listening to a book while I am in my quilting studio and over the last few years I've listened to about as many as I have read. I'm reading a few more this year since I got a Kindle for my birthday last year. I frequently am reading a hardback fiction book, one on the Kindle, a magazine or two, a non-fiction book. an audio book in the studio and another audio book in my car. I like Sci-fi, Mystery, Adventure, Fantasy and sometimes a light Romance for complete mindless escape. I just finished an audio of the first book in the Game of Thrones series (all 22 cassettes) yesterday. Now I want to get my hands on the HBO series and see what they did with it.
I began sewing at the age of 5 when my Mother finally gave in to my demands and put a needle and thread in my hand. The first thing she showed me how to stitch was a Log Cabin Block.
It was the only quilting I saw her do for many years. She showed me how to sew on one strip, which she tore, at a time. When I had had enough of it, remember attention span of a 5 year old, I looked at her block and my block and kept hers since it was better. That's it below. Why do I still have it? I used it for a doll blanket and it has kept Barbie and Ken warm for a long time (yes I still have them too). I did give it a wash and mended a seam before the picture.
I bet you have a few childhood treasures somewhere too.
Mother's Log Cabin Block
Mother and my older sisters soon taught me how to make doll clothes and do embroidery. When I was eight, oh my, I can say that was 50 years ago now, she allowed me to use the electric sewing machine. My first project was a denim wrap around skirt complete with patch pockets, ties and buttonholes to run them through. By the time I was in Junior High I was making most of my clothes. I continued to do so for many, many years. I seldom make clothes now but I made many things for my children when they were small.
I shared some more details about myself in the Glorious Autumn Block Party interview. If you click on the link and scroll down the page you will see a picture of me and some of my projects. The block I designed has a tutorial here. There is a PDF download pattern there too for the Leaf Vase block below.
Leaf Vase Block
More of my quilts can be seen on my Finished Quilts page. I have spent the last few weeks trying to get pictures of all the ones I have in my possession but I am still not done editing them yet. I will be adding to that page soon and hopefully blogging about them too.
I just posted a tutorial on my Favorite Quilting Tool this week. This is Part 1 of a 3 part tutorial. I hope you find it helpful.
My favorite children's book is The Quiltmaker's Gift. If you haven't seen it you should get it. The artwork is amazing and there is a hidden quilt block picture inside the jacket that has dozens of blocks in it. I still haven't found them all.
I don't do much handwork except for the occasional binding. I mostly bind by machine just to get it done quickly. I read books or blogs while I watch TV or occasionally play games on the computer. Yes, I am a multi-tasker, it has driven my children and husband nuts for years. LOL Really, how much concentration does it take to follow the story line of your typical TV show these days? I can always hit replay if I need to, we record everything we watch so we can fast forward through the commercials.
Blogging is fun but time consuming. I am enjoying making tutorials and sharing some of my quilting knowledge. As a former quilt shop owner and sewing machine dealer I have had a bit of training. I started teaching quilting classes over 20 years ago and have taught many different techniques. I started doing demonstrations at the age of 10 when I joined 4-H. My first one, which I even got to do on TV, was on how fabric is made.
As I learn the techie stuff blogging is getting easier. I wish there was a single place with all the answers but I am managing to find them, scattered around the web, as I need them. I think that may be the better way to learn in any case. My advice, which I have been following, is to ask for help from someone who is using the gadget or technique that you need. Everyone has been very helpful when I have needed answers. Beth's series on Advice for New Bloggers is GREAT!
Can you find the seam in the print? There is one there.
Today I am sharing a tutorial on How to Match Fabric Repeats in Borders. It is a fun way to hide seams.
I am having a Giveaway this week for followers. To sign up for it first become a follower of my blog, if you aren't already, and then go to the October Fun is Here! and leave a comment there.
It is very nice to meet you all! I hope to get to know you better soon!
Linking with Live a Colorful Life