The difficulties you meet will resolve themselves as you advance. Proceed, and light will dawn, and shine with increasing clearness on your path.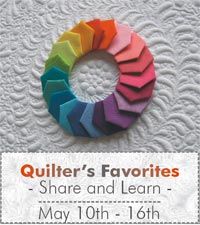 Geta Grama
of
Geta's Quilting Studio
is having a great Linky Party this week. She is inviting bloggers to share their Favorite Things and Tips about Quilting. Naturally, I didn't want to miss out on the fun. I hope you will pop over and join the fun. You might learn a thing or two while you are at it. Some really great bloggers are participating so there are years of quilting experience being shared.
If this is your first time visiting my blog I hope you will explore it a little and get to know me. There are some Tutorials available and some Free Patterns also.
Geta supplied a list of questions that could be answered for this post. Rather than going through the list I thought I would share some information on the basic categories a quilter is confronted with when learn our craft.
Before anyone can quilt they must choose what fabrics to use. That brings the decisions of what colors will work well together. I'm not going to get into Color Theory here. If you want to read some excellent and detailed posts about that I suggest you go to Vicki Welsh's Field Trips in Fiber. Scroll back to the first post on the subject and read them in the order they were written. You will be very well educated in Color Theory if you do.
My advise to students and customers facing the overwhelming number of fabrics to choose from is to start by picking one multi-colored Focus fabric that they really like. Next pick out several fabrics that go with the Focus fabric. Make sure you include a Light, a Medium and a Dark color value in these selections. Next find one Accent fabric, this should be used to add a spark of color here and there in the quilt.
For example, a standard arrangement of this would be in a Sawtooth Star Quilt:
Focus Fabric: Border and Block Centers
Medium Fabric: Sashing between Blocks
Dark Fabric: Inner Border and Binding
Accent Fabric: Star Points
I used this Guide of picking 5 many times for my own quilts and helping many others select fabrics for their quilts. It is easy and works well if you can understand the difference between Light, Medium and Dark. This Does Not mean that you must only use just 5 fabrics in your quilt. You can use as many fabrics of each value as you desire. If a fabric looks good with the Focus Fabric it will usually work with all the others that do. Try to balance the selections by value as well as number. The exception to this is the fabric you choose for the background which you might want to be the same fabric throughout the quilt. The Accent fabric should be used only in places where you really want to stand out in the design, like the star points in a star block. You can use multiple fabrics in the same color for the Accents.
Confetti Stars Close Up View
In this quilt many lights were used for the background. The border is the Focus fabric, the Accent fabric is the 2 golds used in the stars and inner border. A variety of browns, blues, reds and greens in medium and dark values were used. The attention to Contrasting Values is what makes this design work.
Confetti Stars
Pressing is SO important! If you cut a strip from a pressed fabric and compare it to one cut from a fabric that hasn't been pressed - THEY WON'T BE THE SAME SIZE!
If you don't know where an accurate 1/4" seam can be sewn on your machine LEARN!! It doesn't take much time to sew three 2" x 6" test strips together, press the seams away from the center and measure the center strip. If it doesn't measure exactly

1

1/2" make some adjustment in what you are doing and try again. Variables can be the foot used, where you line up the fabric with the foot, needle position or if you didn't cut the strip accurately. It doesn't take that long to sew 5 or even 10 samples until you get it right. Then train yourself to pay attention to doing it that way until it is a habit.
Pressing during construction is important too! If you let little pleats stay along seams the block will not be the right size and seams will not match up. Take the time to press along the way, after every step of construction. You need to stand up and move around anyway.
I began sewing on a machine 50 years ago. Yes, that was a long time ago and things have changed. Machines do so much more now. As a former sewing machine dealer I can tell you there are good machines to be found in any brand. There are some lemons out there too.
The features that are most useful to quilters are:
A really good Straight Stitch

Needle Down Feature

Speed Control

Accurate 1/4" Foot

Walking Foot

Free Motion Foot
Nice to have but not necessary is:
Automatic Thread Cutter

A variety of decorative stitches

Knee Lift for Presser Foot

Commercial Speed Motor (sews faster, lasts longer, adds weight)

Table that surrounds the machine bed to give a flat sewing surface: i.e. Sew Steady Table
TENSION ISSUES
I was surprised to learn as a sewing machine dealer that 90% of tension issues could be resolved by doing one or two things. I found it to be true and sent customers home without having to have their machines serviced. Remember them next time you have a problem.
Re-thread the machine top (from spool to needle) and bobbin (take it out, put it back in)

Change the needle
Keep it Clean! Dust out the bobbin area every time you start a new project or every 5 to 6 bobbin changes. Oil as suggested in your manual. Change to a new needle every 8 hours of sewing. If you can't remember when you put in a new needle you are probably past due for one. Dull needles make a 'thunk - thunk' sound when piercing the fabric. A sharp one doesn't. Micro-tex needles are great for piecing. Top Stitching or Embroidery Needles for quilting.
Superior Threads has some great info on needles and threads on their education pages.
That's a little advice from me on a few subjects. I hope you've learn something and will use it to make many quilts. I frequently use EQ7 when planning new projects or working out sizes and yardage for projects. I will be having a Giveaway this Summer for a copy of the software that I won. It will be for followers ONLY so you might want to visit me on a regular basis to learn more details. I also have a handful of Tutorials that are in process to be posted.
I look forward to getting to know ALL MY FOLLOWERS better in the days to come!
MAY ALL YOUR PIECING BE PEACEFUL!!!
Patricia